Aug 28, 2020 11:46 AM Central
Linda Allen
When I think back to my skincare routine in H.S. I could just cringe at the lack of knowledge I had about maintaining healthy skin.
I used to rely heavily on products that always seemed to dry my face out, leaving me on this constant hunt for moisturizers that would fix the trick.
After being diagnosed with Rosacea in 2017 I realized that healthy skin really starts within. So in addition to healing my gut (for tips on where to start that journey check out my blog on the benefits of MSM or the benefits of bone broth), increasing my water intake, I embraced a more holistic routine using essential oils to enhance my skincare routine.
Essential Oils & Skincare Routines
The concentrated aromatic liquid from various parts of plants, the naturally occurring constituents in essential oils have been used in cultures for centuries. Their natural properties have been shown to brighten, smooth, and moisturize the appearance of skin (which let's get real is a woman's dream)
4 Essential Oils for Your Fall Skin Care Routine
As the leaves change in fall so should our skincare routine. Here are 4 of my favorite oils to add to my skin care routine to keep me feeling pampered and pretty!
Geranium: this gentle oil is great for all skin types but really great for those with oily and dry skin. I love it to help smooth and even skin tone.
Frankincense: This oil has such a historical presence for healing as well as beautification and rejuvenation of the skin. It is a popular one for moisturizing and smoothing out the skins appearance.
Lavender: A daily skin care regime must have, lavender is not only known to provide a sense of calmness and relaxation but it is also a gentle oil to help nourish all skin types.
Manuka: You may be familiar with manuka honey but now we're talking about Manuka essential oil. I'm not going to lie, I personally was extremely hesitant to use this in my skin care routine simply because I cannot stand the smell however this little gem did wonders for providing me with a bright, even, and fresh look!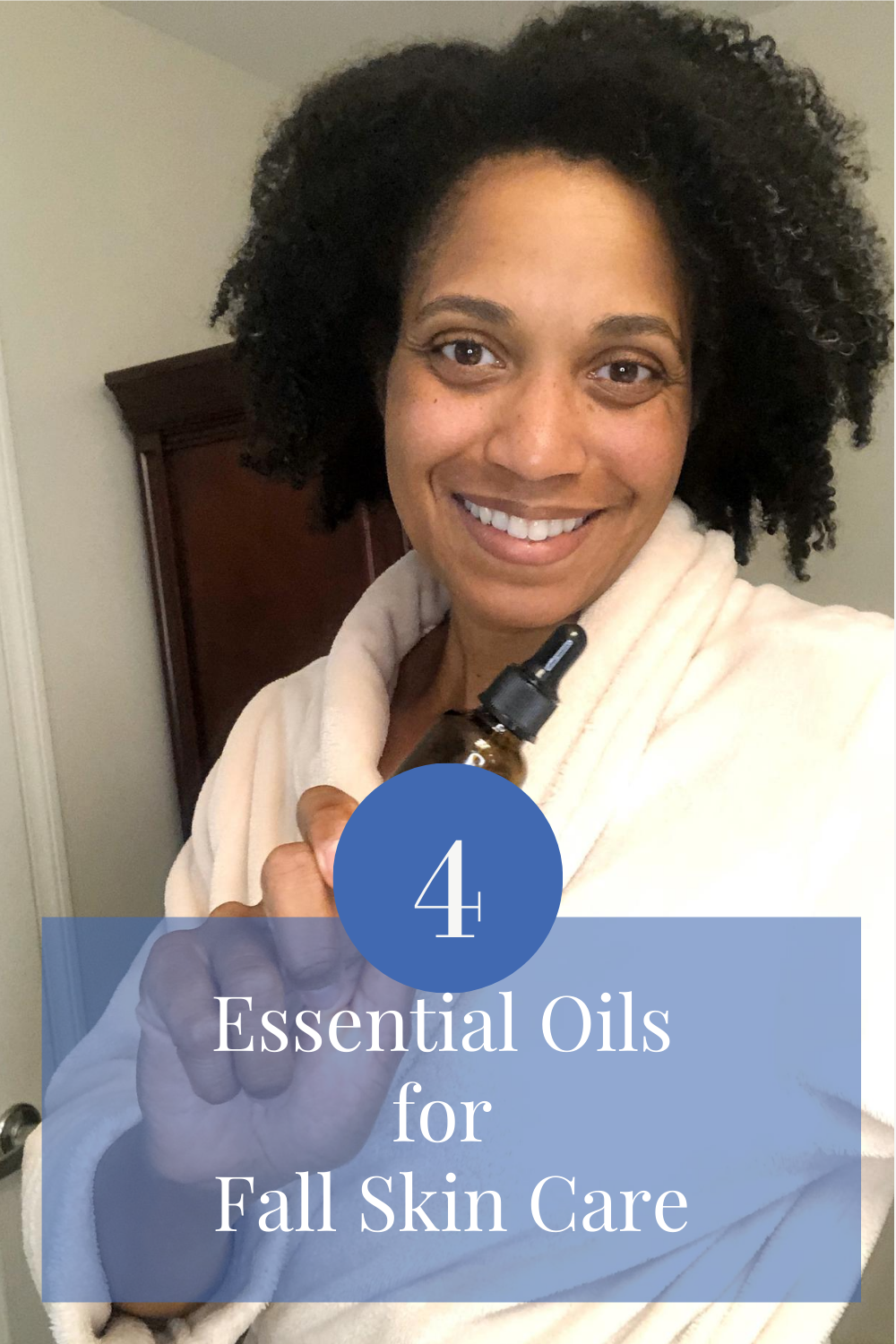 How Should You Safely Use Essential Oils in Skin Care?
Since essential oils are highly concentrated it's important to remember that everybody may respond differently and some individuals may be more sensitive than others. I always start with one drop in non toxic facial moisturizer and do a test patch first on the inner elbow just to see how my skin responds before using it on my face/neck. (**citrus oils or blends with citrus can be highly photosensitive)
Most importantly make sure you are using quality essential oils in which the company manages and distills on site and has their own farms so that the quality control and purity standards are tighter. There are too many brands on the shelves with tons of synthetic fillers in them which can be quite harmful.
Now go out there and strut that glowing, beautiful face of yours!
Want first dibs of notification when new posts are released?